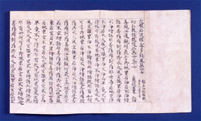 | | |
| --- | --- |
| Pseudonym reading | 20 years of experience |
| Specified type | Prefecture designation |
| Type | Handwriting |
| Designated date | April 26, 1977 |
| Specified details | |
| quantity | 1 volume |
| location | Hiraizumicho Hiraizumi Osawa |
| owner | Moshi Temple |
| Holding group | |
| Management organization | |
| home page | Hiraizumi's cultural heritage |
Overview
It is a printed booklet of a paper book sumo wrestler, 17 lines of 17 lines per line (17 sheets).
At the beginning of the chapter, General Waka Hara, Negishi, 7th Wada, Sumimori, Fujiwara, Mr. Aiko, etc., at the end of the volume, Cheng's 4th year after August, 17th, 18th, February, Xiu Chie Bucheon圓 恵 二 日 八 八 田 田 田 田 田 盛 親 原 Fujiwara Aiko etc. There is a sumiograph of butler monks 慶.
The original four lines also have the same handwriting, and there is an article of Cheng'an 4th year (1175) August 17 and a 1st year of Yunan's original year (1175) 8th and 23rd.
It is the era of Hideharu Fujiwara.
It is a representative document as a copy of the scripture of this era, and a valuable material.