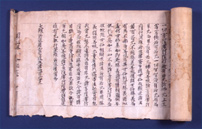 | | |
| --- | --- |
| Pseudonym reading | The number of hours to go to the university |
| Specified type | Prefecture designation |
| Type | Handwriting |
| Designated date | April 26, 1977 |
| Specified details | |
| quantity | 1 volume |
| location | Hiraizumicho Hiraizumi Osawa |
| owner | Ohridin |
| Holding group | |
| Management organization | |
| home page | Hiraizumi's cultural heritage |
Overview
There is a deletion of about 2 sheets of burlap paper, a roll book, a line of 17 letters, and a winding head.
At the end of the volume, there is a secret book of "Saharu Three Years New Year's Day".
The 3rd year of Shoji (1 364) corresponds to Shohei Minami Aso 19 years.
Unlike the commonly known Chusonji-kei of the Heian period, the copy of the letters changes with the times.
It is valuable as a historical material for the history of the photocopying, and it can be said to be a medieval photocopying sample.