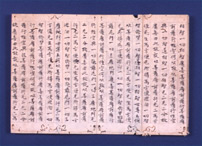 | | |
| --- | --- |
| Pseudonym reading | The number of hours to go to the university |
| Specified type | Prefecture designation |
| Type | Handwriting |
| Designated date | April 26, 1977 |
| Specified details | |
| quantity | 1 volume |
| location | Hiraizumicho Hiraizumi Osawa |
| owner | Shotokuin |
| Holding group | |
| Management organization | |
| home page | Hiraizumi's cultural heritage |
Overview
One line of 17 letters in a row with 25 sheets of burlap paper, sumi-kan, scroll paper (25 paper) It is said that "Sakai Rina" is the third volume of the book "Don't take it down".
The letters of the shaman and the scripture seem to be the handwriting of the same person.
It is a valuable document as a medieval shakusha.