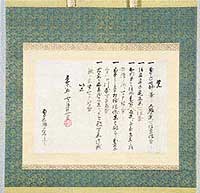 | | |
| --- | --- |
| Pseudonym reading | Toyo Tomihi Yoshinojo |
| Specified type | Prefecture designation |
| Type | Old document |
| Designated date | March 29, 1991 |
| Specified details | |
| quantity | 1 width |
| location | Morioka Ehime-cho (Morioka City Central Public Hall) |
| owner | Morioka |
| Holding group | |
| Management organization | |
| home page | |
Overview
Vertical 46.5 cm.
Width 66.0 cm.
Since the Tenshin 18 (1590), southern part Nobunao joined Utsunomiya in Toyotomi Hideyoshi since his visit to the southern house.
Mr. Nambu was incorporated under the Toyotomi administration by the issuance of the seal letter, and the existence of Toyotomi Daimyo (Early Modern Daimyo) was recognized.
The seal shown in 1. Sealed territory, 2. The lord of the wives and children in Daimyo, 3. The securing of the prisoners in Tokyo based on the settlement of the storage area by the settlement, 4. The destruction of the castles of the vassals and the settlements of their wives and castles under the castle The four principles are not merely applied to Mr. Nambu, but are widely targeted at the various daims of Owa.
Such documents clearly incorporating the basic policy of "Owha siding" of Hideyoshi are only two in combination with the seal letter to the territory of Tozawa Kuro (Kemitsuri) in Senboku-gun, Debukoku, even if viewed nationwide. And, it is the most basic thing when considering the history of Iwate, it is a valuable historical material.
Currently, it is stored at the Morioka Central Public Hall, and the state of preservation is extremely good.