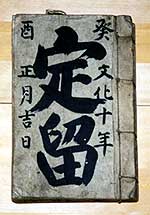 | | |
| --- | --- |
| Pseudonym reading | Good morning only |
| Specified type | Prefecture designation |
| Type | Old document |
| Designated date | April 28, 1995 |
| Specified details | |
| quantity | Fixed volume 95 volumes Fixed volume headbook (inventory) 2 volumes 24 volumes including Date Masamune black letters etc. Total 121 volumes Kesen-gun village picture 23 points of Bunsei period 6 points total 29 points 6 |
| location | Rikuzentakata City Kesen-cho Jijicho Rikuzentakata City Library |
| owner | Yu Yoshida |
| Holding group | |
| Management organization | |
| home page | |
Overview
It is reported that the Yoshida family emigrated to Imaizumi village from Kamiarizumi village in Senken-Kensen-gun in 1620.
According to the "Date Masamune Black Letter" (Gen-Wa 6 years, August 3rd) and "Kesen-Gun Imaizumi-mura Fudo-Kishiki" (Yasunaga 6, 1777), the Gen-Wa 6 years, Yoshida Uemon (Chikugo) has been appointed by Mrs. Masamune as a major source of Kesen-gun.

In this way, the Yoshida family will take office in Kesen-gun, but in particular the 2nd calendar year (1656) to the 3rd year (1675) and the 1st year (1675) [Yahagi Hisaemon] and the 7th year of Genroku (1694) to 2 years Takanaga (1705) Except for the period of [Matsuzaka Tokubei], he has continued his career as a long-lasting worker until 2 years after the 1st century (1 869).
It is a very famous house in the Kesen district, and is currently nicknamed "Oyodoya" (renamed in August 1908).

By the way, the local control mechanism of Sendai fort has become a county magistrate-deputy official-major input-final entry, and the major input as a village official was mostly hereditary.
This major input led the entry and inspection in the district office, and was mainly responsible for tax compilation and delivery.
In addition to this, he had the right to advance and withdraw from the bottom line, assign county village expenses, dispose of misdemeanors, and inspect the commonsmen.
On the other hand, it is permitted to receive a land of 5 high-student lands or 5 pensions as a salary, and to receive subsidies of 3 or less from the area from the area, and further exempt from the yearly contributions. Privileges such as surname band swordsmen and wearing silk coffins were given.

By the way, to the Yoshidas who have taken over the great entrants, the 118 years from Kanen 3 (1750) to the 1st year of Meiji (1868). A total of 95 "Steady Books" remain together, and they form a twin with the Shiraishi House documents of the Tozan Nankan Daikanoshi.
Moreover, such conventional forms are rare even in the whole country.
image