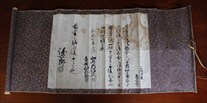 | | |
| --- | --- |
| Pseudonym reading | Returning to the home office as it goes through |
| Specified type | Prefecture designation |
| Type | Old document |
| Designated date | April 7, 2015 |
| Specified details | |
| quantity | Three ancient documents one set of Mie box |
| location | Shimonari-Igun Tanohata Murano Tanabata |
| owner | Individual |
| Holding group | |
| Management organization | |
| home page | |
Overview
The document relates to "Morioka Ryozo Iketsu Ito Momochi Ippatsu", which is considered to be one of Japan's largest hundred surnames in terms of scale, political awareness, organization, tactics, effects, and character, which occurred in Kanaga 6 (1853). It is an ancient document transmitted to the home.
The document consists of the following three.
(1) "Nanjiro Rokuro Okusho Black Letter"
As we do not punish the villager (general peasant) of the three closures who participated in Ichigo, we promise with the name mark of two names of Morioka Samurai's family name so that we can go back to the village with confidence, It is a testimony that is signed and sealed with a copy of the southern part Shirororo. This document is included in the record of the same age as seen from the side of Morioka, "Inland History", as well as the "Nanbu Teishoku Teseki Kodoshi Kodomesu" of the Daikaniri Yoshida family in Senkeisen-gun, Sendai. It is the original of the document that is regarded as a proof that Atsushi Morioka guarantees the impotence of the participants. It is important as a material that symbolizes Japan's largest farmer's surname.
(2) "Sushizakaichitatsunobansha"
At the same time as the above (1), it is a testimony that the first base has promised that the contract will be made and that it will return to the village without fail. As the original was submitted to the wolf, this is a copy left on the side of the brow.
(3) "Depression of Depression"
While negotiating, the first team side sent to Sendai Narcissus county generals, the Morioka clan did not retire the elders and custodians who had imposed too heavy taxes so far, the esteemed reputable minister is still like a closed gate, and even if he returns Because I do not know the punishment falls, I appealed for wanting to be a perpetrator of Sendai samurai. This is also a copy left on the brow side.
(2) and (3) are both copies for the latter day, but the former is "City History", "Southern Territories Peasant Consent Complaints Tangan Village, and the latter is" Stomach Consciousness It is included in the "Song Tang Dan Village, and is important for knowing the character of the first base.
image