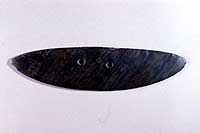 Overview
Long axis (1) 19.6 cm, (2) 18.4 cm.
Short axis 5.0 cm, 5.8 cm.
Thickness 0.7 cm, 0.9 cm.
Weight 108 g, 134.4 g.
Both are made of slate.
The blade is in the bay and the back is also in the bay slightly.
It has a spindle-shaped form.
Although it is a rice picking tool accompanying rice cultivation during Yayoi period, there are three cases found in this prefecture.
The two cases in this case were excavated during the repair work of Moi Raidani, Shimizu, Izawa-ku, Oshu city, in 1975.
Both are perfect and valuable.
image