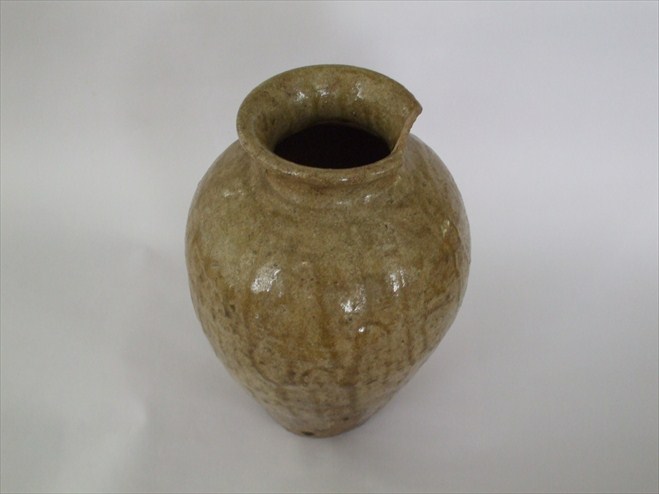 | | |
| --- | --- |
| Pseudonym reading | Atsumi Kai Yu Tsubo |
| Specified type | Prefecture designation |
| Type | Archaeological Material |
| Designated date | November 7, 2014 |
| Specified details | |
| quantity | 1point |
| location | Morioka City Motomiya Ara-ya A learning center of Morioka city ruins |
| owner | Individual |
| Holding group | |
| Management organization | |
| home page | |
Overview
Height 25.9 cm, aperture 10.6 cm.
It is believed that it is an ash pot from Amami and distributed around Amami peninsula in Aichi Prefecture, excavated from Ichimoto Matsuketsuzuka located in Morioka city in the early 1940s, and used as an extra-cylindrical container.
Although a part of the lip is missing, the whole surface is glazed so that the greenish-yellow ash drips down, and there are few rare cases in which the color is beautiful with this almost perfect shape.
These characteristics are characteristic of Amami-Tei and large Araco burial mound products in the first half of the 12th century, but the color of the ash pot of this product and the mother earth is common to those of the Ami-Tei and Yuko Tani products after the 12th century. Although the appearance of full-scale glazing in the middle period of the two burial mounds is uncertain in the field of Amami Pass, the probability that this product belongs to the third quarter of the 12th century is extremely high and it is considered to be the reference data.
Hiraizumi in that period is Japan's leading consumer of ceramics, and many Amami products have been excavated, and it is highly likely that this product has been invited via Hiraizumi. This product is an excellent item of Amami product, and it can be said that it is an important data when considering the relationship between Hiraizumi and the outlying area, and also when considering the so-called Hiraizumi culture's influence on places other than Hiraizumi.
It is not only an excellent product as an Amami product, but it is also an important material and has extremely high academic value, both in terms of its compilation year and in understanding the so-called specific phase of Hiraizumi culture.
image