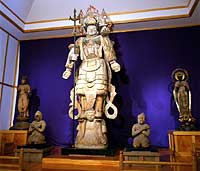 | | |
| --- | --- |
| Specified type | Country designated / important cultural property |
| Type | Sculpture |
| Designated date | August 16, 1920 |
| Specified details | |
| quantity | 1 body |
| location | Hanamaki City Towacho Kitanarijima |
| owner | Bishamondo |
| Holding group | |
| Management organization | |
| home page | Designated cultural property | Hanamaki City |
Overview
Attached wooden two demon sitting statue body height 348.4 cm.
Wooden, Yosebo, colored finish.
Wear a crown, a crown of the crown, eyebrows, sculpted eyes, Tang-like back.
Wear a pair of arms, hanging on both shoulders on both shoulders and hanging long backwards.
The left hand is humiliated, the treasure tower is dedicated, and the right hand is slightly forward to hold the fort.
Knead the mouth of the wolf, put on a shin pad, and get on the shoulders of the earth.
The earth supports the feet of Bishamon Heaven on both palms.
Demon left 90.9 cm.
99.9 cm on the right.
Wooden one wooden, colored finish.
Put on your hair and strip, put on your clothes and sit upright, cross your hands with your chest.
It is said to be revered as the guardian of the north during the Heiwa era Tohoku reclamation, with the back of the light of the Waboro fire flames, with the two demons (carp and carp) on the left and right, the figure standing upright is a threat Give a feeling.
It is a giant image of the prefecture.