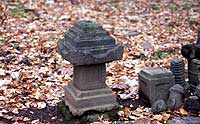 Overview
Total height 79.5 cm (loss of circle).
It is made of granite and has a two-tiered foundation.
The lower platform is 43 cm on each side, the upper platform is 32 cm on each side, and inscriptions are inscribed on the front and left and right sides of the main body.
The tower is a cube of 19.5 cm on a side, and the four sides of the front, rear, left, and right have two-step contours, and each one has its own inscription.
The ridge is a square of 36 cm on a side, and the corners are slightly open and high.
There is a four-tiered structure, the top is a square with a side of 12 cm, and the center is made in the shape of a bench, and a hole is inserted in the middle to insert a ring of 5 cm in diameter and 9 cm in depth.
It is the only one of the Baodu stamped towers in the prefecture, with its medieval age (1398).