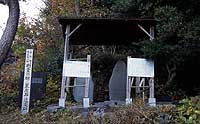 Overview
【Constellation Stone】

70 cm in major diameter.
Minor diameter 44 cm.
Thickness 18 cm.
Bright green tuff.
Draw a circle in the center of the oval-shaped irregular pentagonal disc-shaped stone, and engrave "Arctic departure place 弐 九 度 度 分 に" in the circle, 12 Miya) and zodiac signs with every other name.
Originally, it is said that it was on the cliff about 60m above the sea level of Kartan city in Kamaishi city.
【Monument of surveying】

133 cm in height.
Shoulder width 76 cm.
Lower width 71 cm.
8 cm thick.
Bright green tuff.
The tip is pointed, but the shoulder is a nearly rectangular plate.
Two letters of "tengu" are inscribed at the top of the top of the monument, and two lines below it are inscribed as "Tarutan village surveying monument, Mutsuku Kesen-gun".
It is believed that Shosai Masayoshi made it in 1814 (1814) in commemoration of Ino Tadataka's surveying on this site.