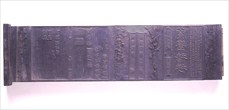 | | |
| --- | --- |
| Pseudonym reading | Ootsuki Kyuhangi |
| Specified type | Prefecture designation |
| Type | Historical materials |
| Designated date | November 5, 2013 |
| Specified details | |
| quantity | 142 points (136 pieces of 9 species of wood, 6 pieces of end eating) |
| location | Ichinoseki City Itsumi Town Character Okinono Ichinoseki City Museum |
| owner | Ichinoseki |
| Holding group | |
| Management organization | |
| home page | |
Overview
Orchid Science Grade One of the leading works of Daegu Genzawa, an introduction to Dutch Studies and Dutch.
Shinsuke Oshida, a doctor who developed a translation by Sugita Genjiro, was succeeded by his disciple Ozawa Genzawa, and was the forerunner of full-fledged Western surgical research in Japanese medical history.
This is a supplement to the kanji used in Nishionto's fine-tuned orchids written by Osamu Otogi, the eldest son of Nishizawa Fu Gen Gen.
A small magazine published in the United States Small Magazine, Genzawa's second son, Oisokei. At the time about the geographies of the United States, the latest knowledge was sent to the world quickly.
Ogasawarajima New Magazine Furuhiko Ogura, the grandson of Genzawa, wrote one of the four magazines pertaining to the territorial theory with neighboring powers in the early Meiji era.
Ika Hoshi When Fumihiko Otsuki went to Ikaho Onsen in Ikaho Onsen in 1972, he was caught from a host and wrote about the journal of Ikaho Onsen.
This is a compilation of the basic knowledge of astronomical geography, metrology, etc. published by Yogaku Fukushi Ishigumi Fukuchi Gakuen Kawashima Motonari.
The author, who is unknown to the author, classified 365 drugs.

The said cultural property is itaki of orchid science, medicine, a language, a geograph etc. of the former possession of the Otsuji family, and there are 2 pieces of 1 kind undecided itaki besides the above.
image