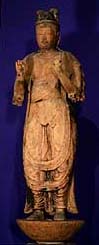 Pseudonym reading
Mokuzo Denkichiten
Specified type
Country designated / important cultural property
Type
Sculpture
Designated date
August 16, 1920
Specified details
quantity
1 body
location
Hanamaki City Towacho Kitanarijima
owner
Bishamondo
Holding group
Management organization
home page
Overview
Image height 175.74 cm.
Wooden, zelkova wood, one wooden, colored finish.
Over the head, sculpt the outward two-figure neck and sculpt the crown of the crown.
Carvings, both hands are in the form of humiliation, and each arm is engraved with an annulus, and there are traces of left and right handed arms.
Put on a bow, put on a broom, and parallel the Tenri in front of your knees.
The pedestal consists of lotus, anti-flower, and a six-faced bevel.
The neck and the other supporting parts were in the Edo period, and in the case of the supporting parts, both forearms were made of separate wood, and the sign was attached by repair at that time.
The wood grain appears beautifully, and it is an excellent work among the entire area of the prefecture.