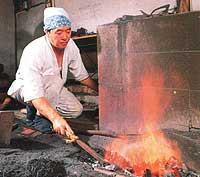 | | |
| --- | --- |
| Pseudonym reading | Japanese Language |
| Specified type | Prefecture designation |
| Type | Intangible cultural property, craft technology |
| Designated date | September 7, 1993 |
| Specified details | |
| quantity | |
| location | Morioka City Senkita Town |
| owner | |
| Holding group | Takeshi Yamaguchi (Kiyobo, sword name) |
| Management organization | |
| home page | |
Overview
Mr. Yamaguchi, who was the holder, began researching with the aim of being a swordsman from 1958, and since 1984, he worked in earnest to research under Mr. Masaya Sumiya, an important intangible cultural property (human national treasure).
We became independent in 1972 and made Sakuto place in Morioka-shi and engage in blacksmith (sword, sword, dagger etc).
Establish a style of Bizen-den under the master's hand, the ground iron is well attached with small-grained skin, land payment is done, and the ground view is included.
The blade sentence is a two-letter disorder mainly composed of the two eyes of the scent and the large bunch of the letter. The foot enters well, and the leaf enters the blade.
A well-packed and clear ground iron, and a deep, bright, edgy, scrimmary are first-class today.
He is highly regarded as a swordsman, and has won numerous awards, including the Japan Art Swords Association President's Award and the Hayama Award.
As a master craftsman of the present, in 1961, it received the authorization of the country in 1984.