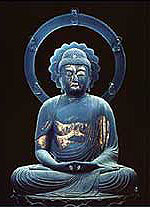 Pseudonym reading
Mokuzo Amidada
Specified type
Country designated / important cultural property
Type
Sculpture
Designated date
April 6, 1929
Specified details
quantity
1 body
location
Hanamaki City Black Town
owner
Katsuyuki-in
Holding group
Management organization
home page
Designated cultural property | Hanamaki City
Overview
Image height 186.3 cm.
Wooden, Yaki, lacquered finish.
Engraving the hair, one letter on the side of the hair, make the eyebrows made of quartz crystal and a white agate.
It is a work of the Kamakura period, with the official seal of Amida.
As a result of the fluent style of the Fujiwara style, Kobun has exhibited even more sophisticated techniques, and even for a well-balanced friendliness, it has a somewhat firmer taste.
The pedestal is a quadruple, wooden, lacquered foil, and is carved into arabesques in the square brackets total footed kick (supplementary).
The light is a wooden frame, central Hachibana lotus flower, and a ring of five Buddhas on the outer periphery, but also a supplement.