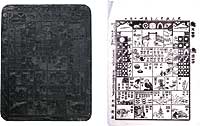 | | |
| --- | --- |
| Pseudonym reading | How to read |
| Specified type | Prefecture designation |
| Type | Tangible folk cultural property |
| Designated date | March 30, 1982 |
| Specified details | |
| quantity | |
| location | Morioka |
| owner | Individual |
| Holding group | |
| Management organization | |
| home page | |
Overview
Morioka Kotobuki (10 sheets) The Morioka Kogi was started by Morioka Toshisaku Morioka, who was a seal engraver and a sculptor with Morioka Aoi.
It is guessed that it is about the culture first year (1804).
The production process is in four stages: editing, sketching, sculpture and handrailing. At that time, a first-class painter at the castle drew a sketch.
There are no printings in the Edo period, and those from the Meiji 20s are left.