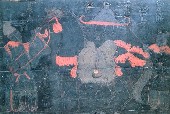 | | |
| --- | --- |
| Pseudonym reading | Urushi-Nuri |
| Specified type | Prefecture designation |
| Type | Tangible folk cultural property |
| Designated date | August 26, 1986 |
| Specified details | |
| quantity | One side |
| location | Rikuzentakata City Yahagi-cho Jiji Temple |
| owner | Kannon Temple |
| Holding group | |
| Management organization | |
| home page | |
Overview
Vertical 40.2 cm.
58.8 cm wide.
Thickness 1.0 cm.
In a plate that seems to be a two-sided lacquered square, with a lacquer of tea, gold, gold etc., put a horse at the center and a horse's bridle in front of it, an old man with a bridle, and a canopy behind I draw with a boy of the southern style.
The inscription is under the canopy of Kannon (Sa) under the canopy of "Dedicated Ema", "Dedicated Fulfillment", "Keicho Seventeenth Year (1602) Samurai (June) June 17" " In addition, it is thought that it is the pattern which expressed the Kannon on horseback that the kanji (サ) of Kannon is written.
It is an old one as a lacquer-painted ema with inscriptions, and in particular, there are remnants of the Azuchi Momoyama period, and it is valuable as a document to know the customs and religious beliefs of those days.