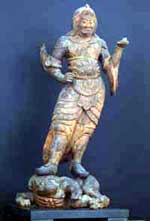 Pseudonym reading
Japanese language course
Specified type
Country designated / important cultural property
Type
Sculpture
Designated date
April 6, 1929
Specified details
quantity
1 body
location
Kitakami City Flower
owner
Manfukuji
Holding group
Management organization
home page
Overview
Image height 102.1 cm.
It is thought to be an image of a wooden frame, a carved eye, and a colored finish, but now it represents the groundwork.
He wears an indigo-like, inlaid tang-like instep.
The left hand humps in the form of making a treasure tower.
Hold your right hand and hold your weapon at the waist.
Knead the mouth of the persimmon, put on the shin and the persimmon.
The sleeve tip is deleted.
I pulled my hips a little to the left and stood on the vamp with her center of gravity on the hips.
It is considered to be the late Heian period, but it shows the majesty of the early Heian period, such as showing the intense expression that the eyes have popped out.
The left, the right, and the right and left heels are all supplements.