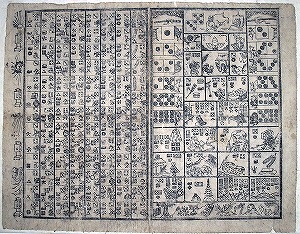 | | |
| --- | --- |
| Pseudonym reading | Nago Ego Mori Oragomi Kanazawa Collection |
| Specified type | Prefecture designation |
| Type | Tangible folk cultural property |
| Designated date | October 26, 2007 |
| Specified details | |
| quantity | 14 sheets |
| location | Morioka City Ueda Character Matsuyashiki |
| owner | Iwate Prefecture |
| Holding group | |
| Management organization | |
| home page | |
Overview
It is a calendar that expresses only pictures without using letters so that those who can not read and write letters can understand it.
It was carved on a single block of wood and printed on a single block, and it was widely used north of Morioka at Morioka Pass.

The Morioka calendar until the beginning of the Meiji era is 14 sheets from Kanaga 6 (1853) to 1893 (1870), of which 32 types for 31 years have been confirmed. It is a valuable resource for recognizing gender and understanding the transition of the Morioka calendar.