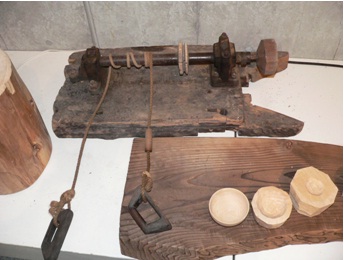 | | |
| --- | --- |
| Pseudonym reading | Apigiwa-Ki-Ki-Ki-Iki |
| Specified type | Specified |
| Type | Tangible folk cultural property |
| Designated date | March 2, 2010 |
| Specified details | |
| quantity | |
| location | Iwata Hachimantai Shibata others |
| owner | Hachimantai City and others |
| Holding group | |
| Management organization | |
| home page | |
Overview
It is said that the origin of Jojo-ji is that when the Tendai-ji Temple was created, the monks made and used them as fixtures of the temple and spread to the nearby residents. During the Edo period, the foil basket which established its position as an important product of Morioka kiln, and which was treated with gold foil, was called the "nanbu foil basket" and was stored in the kiln, "Oyama ( The combination of rice, soup and dishes known under the name of "Oyama) Goki" has been exported to other territories as a folk song. The prosperity continued until the early Showa era, but inferior quality lacquerware became the mainstream, and Jojoji Hori reached a period of decline.
The equipment used in this document is the equipment and product samples used by Mr. Kinsaku Fujimura (1912-2002), who became the last woodworker in this area, and what kind of equipment the woodworker used You can know if you saw the ground and it is an important material to understand the process of making the ground, such as rough type.
The documents are transmitted to Seki's family in Akasakada, Hachimantai City, and are related to "Sakaemon Shiro," who was the leader of this local wooden group. The "Denma Testimonials", which account for a large part of them, are valuable items that indicate the scope of activities, and were issued by the Takamatsu Palace of Omi Kuni-Kanzaki-gun Kimigabata, the origin of the country's woodworkers. Etc. are also included.
Saemon Sashiro lived in Matsuoka village (Jojojicho, Ninohe city) in the early Edo period, but moved to the Abi river basin to Akasakada, now Hachimantai city, in the middle of the Edo period in search of raw wood to be a woodland ing. In the Appi river basin, lacquer scraping was carried out actively in the downstream area, and painting was carried out in the midori-bushi village in the middle basin from Oshimizu village (formerly Johoji Town) to Araya village (formerly Anshiro Town). .
As such, it is a valuable resource when considering the livelihoods of the woodworker.
image