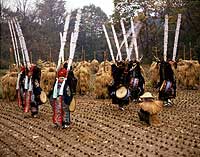 | | |
| --- | --- |
| Pseudonym reading | Shio Odori |
| Specified type | Prefecture designation |
| Type | Intangible folk cultural property |
| Designated date | December 24, 1963 |
| Specified details | |
| quantity | |
| location | Oshu-shi Esashi Ward Inase character Tsuruha clothing table |
| owner | |
| Holding group | Tsuruha Ika dance preservation meeting |
| Management organization | |
| home page | Kanetsu Tsuruha Iga Odori Conservation Association |
Overview
Tsuruha Izuka Odori is a drum dance, with the head of a real deer horn biting, holding a drum, wearing a long length on the back, and dancing with various forms of eight deer.
The eight deer have the role of neutrality, mejishi ojishi (one gurui, two wakkuglyi, three wakijishi), and the leading role changes depending on the program.
However, the whole leader is neutral, and dances in a circle form, sitting in a semi-circle, or forming a formation in response to the drumstick bachi of the drum.
The performances include "Mushiji Kashikushi", "Dayamako", "Harukama", "Attack on Fire", and "Tosa", and "Tosa" is considered to be a difficult song with a single, neutral step.
In addition, it has the tradition of Shimon-guri as a way to dance, and has a long tradition and rich art.
We dance in the garden of a private house that was asked for the offering of the Samurai Bon (August 14-16).
In addition, dedicated at the annual festival (formerly September 9) of the guardian deity of the guardian deity.
In addition, we perform a performance at any time according to various entertainment events or requests.