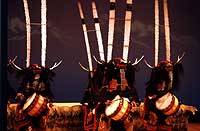 | | |
| --- | --- |
| Pseudonym reading | Food and food service |
| Specified type | Prefecture designation |
| Type | Intangible folk cultural property |
| Designated date | April 4, 1978 |
| Specified details | |
| quantity | |
| location | Oshu city Esashi ward 梁 小林 Kobayashi |
| owner | |
| Holding group | Kanatsu flowing deer preservation preservation society |
| Management organization | |
| home page | Kanatsu Nagare River Shinkoaku |
Overview
Attached Kanatsu Ryukyu Honkanaki and Kinzu Ryuzuka Shinden catalog, deer dance distributed from northern part of Miyagi prefecture to southern part of Iwate prefecture is called "taiko dance deer dance", dancing while striking the drums you have worn. Well, the head with a horn of horns and the long Sasara carrying it are impressive.
It is reported that Matsuyama-cho, Shida-gun, Miyagi Prefecture, was sent to Esashi-gun, Inase-mura, Ishiseki in 1828, and it was said to be transmitted to Yanagawa in 1852, and there is a transfer certificate to convey the Kanatsu flow.
The performances include "Reinaba", "Dansanko", "Tosa", "Kirishima" and "Iron dance" etc., and there are lively dances such as "Mezuka Madness", "Nakayama Madness", "Mad Madness" and "Aichisu Kawahara Madness" There is.
In addition, it is also characterized by performing techniques such as swallow-backs and bird springs in dance style.
It is also worthwhile to have the tradition of passing the gate to the ceremonies of the teacher's mission.
I once danced in the garden of a temple or a private house as a memorial service for the Shoran Bon, and dedicated to the local shrine's annual festival, but now the shrine's annual festival such as Matsuo Shrine's annual festival (September 12) We perform performances at any time on request, such as festivals and various entertainment events, etc.