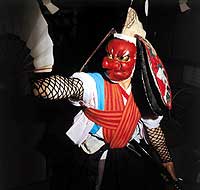 Pseudonym reading
A large amount of snowballs
Specified type
Prefecture designation
Type
Intangible folk cultural property
Designated date
March 31, 1981
Specified details
quantity
location
Hanamaki City Towa Town Tsuchizawa
owner
Holding group
Tsubaki Shish Kagura Preservation Society
Management organization
home page
Hanamaki City (Hayaike Mine Daito Tsuchizawa Kagura)
National Kagura Council
Overview
Tsuchizawa Kagura belongs to Hayaike Mine Daisen Nagarebushi Kagura, and has been transferred from Daiseki Kagura, Osako-cho, Hanamaki-shi, and has reached the present, but it has been unknown since some time.
However, the year issue of Tenpo and Hiroka (1830-1848) was found in the dance tools, and it is thought that there was Kagura at this time.
There are many dance performances such as "Kanmai", "Kotomai", "Iwaito dance", "Tenyo", etc., and it is played at each Shinto shrine festival etc. .
This Kagura is the main stream of Hayaike Mine Kagura. It is very valuable because it preserves the ancestors of the old Yamabushi Kagura well, and conveys the traditional beauty of the style.