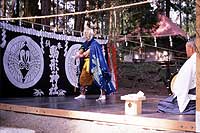 Overview
Ishihatokaoka Kagura belongs to Hayaike Minedakesan-Shushikagura, and Ishitoka Kikuchi Den-emon (1863 years old, 73 years old), but two years of culture (1805) As he received a transfer and later recruited his comrades and put together all the dance tools, he was permitted to give himself the name of Hayaike Mine Iryu Ishitoka Kagura on September 1 in 1834 (1834).
The performances include "Kanmai", "翁", "Itomi Kai", etc. In addition to the regular festival on Sept. 11 at Kamiyamada Komagata Shrine in Towa Town, Chishu Hanamaki-shi, it will be held at the Minami Family Jamomori Sakurayama Shrine.
This Kagura is made to look elegant with its costumes etc., but the dance is elegant in a simple manner, retains the remnants of old rituals everywhere, inherits the flow of Yamabushi Kagura, and is valuable. It is.