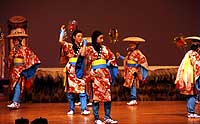 | | |
| --- | --- |
| Pseudonym reading | Susumago Hinako Kenbai |
| Specified type | Prefecture designation |
| Type | Intangible folk cultural property |
| Designated date | August 1, 1989 |
| Specified details | |
| quantity | |
| location | Kitakami city Wakamachi great grandson |
| owner | |
| Holding group | Great-grandson Hinako Ken dance preservation society |
| Management organization | |
| home page | |
Overview
It is a representative group dance of Hinako Ken dance that has been handed down to the Waga region along with Hinako Ken dance, and has a tradition that it was started by a great master as well as a way ground.
While performing colorful dances and drumming with a focus on girls, it is a valuable performing art that has a religious aspect in which a nembutsu repercussion is performed and a virgin dance to serve God and the ancestors.
The program is the 11th item from the shaven to the wolf, and the composition of the performing arts is in the order of the street, the jade (rounding), the shaven, the bird, the main dance, the street.
Although both the program and the composition are common to the wayside, there are programs and swings that are not communicated to the wayside, and it is thought that they are more old-fashioned.
It dances as a spirit offering for the Bon Festival at Soto Seokyeongchang Temple on August 16, and is dedicated to the annual festival of the Furudate Shrine in Chinshu on September 9.
As a major activity of the Contracting Association, which is a mutual aid organization during the Shosei period, it can be noted as a performing arts that played a role in the creation of villages, such as performing rice transplant dance on New Year's Day and Hinako Ken Dance to the tray with the same members.