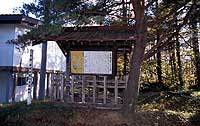 | | |
| --- | --- |
| Pseudonym reading | Prefecture designation |
| Specified type | |
| Type | Intangible folk cultural property |
| Designated date | April 7, 2017 |
| Specified details | |
| quantity | |
| location | Morioka City Motomiya character Omiya 51 |
| owner | |
| Holding group | Omiya Kagura Preservation Society |
| Management organization | |
| home page | |
Overview
It is a scenic spot with a view of the sea on a hilly area called Nakahirayama, which is about 100 meters above sea level.
As a result of four excavation surveys since 1954 (1952), there are more than 100 pitted pit dwellings in an area of 7 ha, and earthenware and pottery with clear traces of rocro use are excavated.
These were used from the Nara period to the Heian period.
In addition, iron pots, iron rings, iron pots, bronze bowls and jade balls are also excavated.
It is a valuable monument to know the development of the culture of this prefecture, which shows that it already has a high level of culture before the development of the Heian period Ritsu government.