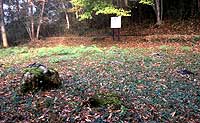 | | |
| --- | --- |
| Pseudonym reading | Doroha Hajima |
| Specified type | Prefecture designation |
| Type | Historic site |
| Designated date | April 5, 1954 |
| Specified details | |
| quantity | |
| location | Ichinoseki City Yamagata Uta Yamashita |
| owner | Country |
| Holding group | |
| Management organization | |
| home page | |
Overview
It is located in the National Iwate Sanatorium on the southern slope of the hill on the left bank downstream of the Kamoi River.
According to a 50-year survey from 1973 (1973), a foundation stone building of the east and west ridge was detected between 5 rows of beams and 4 sections between beams, and the east pillar foundation stone of the altar was seen in the inner row.
In addition, 3 pillars x 3 pillars and 2 buildings of unknown size have been identified.
As for the artifacts, pottery, sue, iron nails, copper products, and Taguchi were excavated.
From the neighborhood there is a stone tile, which is from the Heian period, and indicates the age of the ruins.