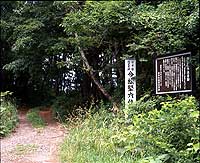 | | |
| --- | --- |
| Pseudonym reading | Imadate Date |
| Specified type | Prefecture designation |
| Type | Historic site |
| Designated date | July 19, 1957 |
| Specified details | |
| quantity | |
| location | Iwate Town Oji Kazui |
| owner | Individual |
| Holding group | |
| Management organization | |
| home page | |
Overview
On the other hand, it is located on the western end of a low hill connected to the south side of the flat area of the well and is a part of the field, but most of the residence traces are in the forest.
The surface of the residence is currently hollow and there are over 20 places where you can find out whereabouts.
The floor surface of the pit is dug about 1 m from the ground surface, and the planar shape is a corner round square of about 8 m per side.
The fort is built in the center of the west side, made of clay, and the flue is about 1.5m.
The artifacts are earthenware and spindles made without using Rocro.
Sueki has not been accompanied.
The period is estimated to be the same period as the Nara period in the same period as the Senba dike cave dwelling site, or a time when it slightly climbs up, and both are valuable monuments to know the culture of this period in the prefecture.