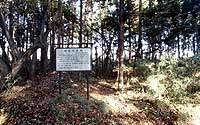 | | |
| --- | --- |
| Pseudonym reading | ご |
| Specified type | Prefecture designation |
| Type | Historic site |
| Designated date | December 24, 1963 |
| Specified details | |
| quantity | |
| location | Ojo City Maezawa-ku Castle Castle Mingozawa |
| owner | Individual |
| Holding group | |
| Management organization | |
| home page | Iwate Prefectural Museum |
Overview
It is located on the bench between the Matsunokizawagawa and Aligozawagawa rivers, which is the end of the Gurisawa Fan.
The ruins were excavated with ancient tiles, which made it a place for people to watch out for.
Excavation was carried out in 1959 (1959) and 39 years, and the building trace between the east and the west, between the north and the south 4, the glacier row trace of this building contemporaneously with this building A trace was found.
Excavated artifacts include the Hebi-Ben-Ren-Ben-Ri tile, the Moen-ben-Ren-Ban-Ben tile, the Razuru character tile, the letter-free tile, the Oki-Rin tile, the flat tile, the Maru-ra tile, the clay pot, and the Sue device.
Among the relics, the tiles are also used in Girujo Castle, which began to be built from the year of the enlightenment 21 (802), and it has been confirmed that it has been excavated from the Seyako rubble (Oshu City Esashi Ward), It is important as an ancient site of this prefecture.