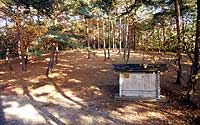 | | |
| --- | --- |
| Pseudonym reading | Shimonoka or hijirizuka |
| Specified type | Prefecture designation |
| Type | Historic site |
| Designated date | June 6, 1969 |
| Specified details | |
| quantity | |
| location | Kitakami city Inase-cho Mizukoshi |
| owner | Kitakami |
| Holding group | |
| Management organization | |
| home page | Iwate Prefectural Museum (Ippin Joden Eden and Hijirizuka) |
Overview
The Kamonoka Hijirizuka is an archeological site that is identified as the tomb of the Warlords of the Kamakura period, known as a historical person.
The "One-time King's Eden" (designated by Sho 27 National Treasure), created in 1929, is a well-deserved picture that depicts the scenery faithfully according to the actual situation.
One year after Hiroyasu 3 years (1280), Esashi-gun was 42 years old, and the grandfather's tomb was thickly covered, but the "Grandf's communication tomb" in Eden Vol. The scenery of this neighborhood is in agreement with the scenery near the existing "Hijirizuka".