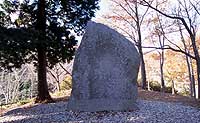 | | |
| --- | --- |
| Pseudonym reading | Issekiichijoukioka |
| Specified type | Prefecture designation |
| Type | Historic site |
| Designated date | March 4, 1975 |
| Specified details | |
| quantity | |
| location | Miyako-shi Yamaguchi character wami |
| owner | Individual |
| Holding group | |
| Management organization | |
| home page | |
Overview
It is on the hill on the north side of Route 106 in Wamiji.
A granite natural stone monument is erected, and the monument has an almost flat shape with a height of 240 cm, a width of 168 cm, and a thickness of 22 cm on the ground. There is a 20 cm-sized letter below it, and it is engraved on four lines as follows.
"Fube Daikei-Iishi-Ichi-kun Kono-no-Nagaha-II" is the second year of Ehiwa (north morning 1376).
There is a thick pile of small-circles around the monument.
It seems that one stone one letter passage is buried under this.
image