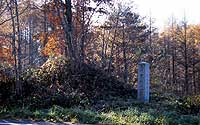 | | |
| --- | --- |
| Pseudonym reading | Strange |
| Specified type | Prefecture designation |
| Type | Historic site |
| Designated date | March 23, 1976 |
| Specified details | |
| quantity | |
| location | Morioka City Tamayama-ku Ayukawa Character Suesakigawa |
| owner | Outside Iwate Prefecture |
| Holding group | |
| Management organization | |
| home page | |
Overview
Omoto Kaido is a highway that connects the southern part of the castle town Morioka and the small land of the Sanriku coast to the east and west.
There are two Suetsuzakigawa Ichirizuka remaining in this Omoto Kaido in the Kamogawa Matsuzaki River, Tamayama-ku, Morioka city.
The mounds line north and south across the road.
In Minamizuka, the Tang South Corner and Southwest Corner at the bottom of the skirt are almost perpendicular to each other, leaving a good appearance at the time of construction, but the north side facing the highway is lost due to the road widening construction.
East-west diameter 8 m 20 cm, north-south diameter 9 m, height 3 m of the foot.
In Kitazuka, the south half facing the road as in Minamitsuka is missing due to road widening work, but the northeast corner and the northwest corner remain at right angles.
East-west diameter 9 m 50 cm, north-south diameter 3 m 50 cm, height 4 m 50 cm of the foot.
image