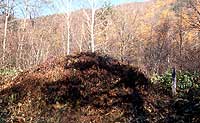 | | |
| --- | --- |
| Pseudonym reading | A lot of troubles |
| Specified type | Prefecture designation |
| Type | Historic site |
| Designated date | March 23, 1976 |
| Specified details | |
| quantity | |
| location | Morioka City Tamayama-ku Kamogawa-shi reverse river |
| owner | Outside the individual |
| Holding group | |
| Management organization | |
| home page | |
Overview
There is one remaining Bishamondo Heiichirizuka in Yodogawa Sakikawa, Tamayama-ku, Morioka city.
It is on the north side of the former Omoto Highway, and this position is west of Suesakigawa Ichirizuka and is 42 towns west of Morioka.
East-west diameter 9 m 20 cm, north-south diameter 9 m, height 3 m of the foot.
The old Komoto Kaido, which is now an abandoned road, remains in the south of the mound, and although the road is blocked with miscellaneous trees, it is possible to take a look at the old state.