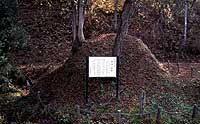 | | |
| --- | --- |
| Pseudonym reading | English paper |
| Specified type | Prefecture designation |
| Type | Historic site |
| Designated date | March 23, 1976 |
| Specified details | |
| quantity | |
| location | Morioka City Tamayama Ward Shibata character Shibata |
| owner | Individual |
| Holding group | |
| Management organization | |
| home page | |
Overview
As for Niizuka Ichirizuka, one former Oshu Kaido east side of Kamata, Tamayama-ku, Morioka city remains.
The west side disappeared during the construction of Route 4 widening work.
The mound is unclear because the northeast corner and southwest corner of the skirt are missing, but the southeast corner is well left at a right angle.
The south-east diameter 8 m 50 cm, the north-south diameter 9 m 50 cm, and the height 3 m 20 cm.