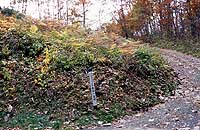 | | |
| --- | --- |
| Pseudonym reading | Takahata Keizuka |
| Specified type | Prefecture designation |
| Type | Historic site |
| Designated date | January 4, 1983 |
| Specified details | |
| quantity | |
| location | Morioka City Kawame |
| owner | Individual |
| Holding group | |
| Management organization | |
| home page | |
Overview
The south is the Miyako Kaido that links the Miyako of the castle town Morioka and the Miyako of the Sanriku Coast to the east and west, and it is the Takahata Ichirizuka and Yanagawa Ichirizuka that two villages currently remain side by side.
It remains in a perfect shape of round earth wharf and is valuable.
North side mound: Diameter 6m 40 cm, height 2 m 40 cm.
South side mound: Diameter 7 m 20 cm, height 2 m 40 cm.