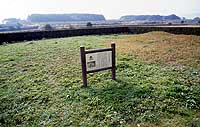 | | |
| --- | --- |
| Pseudonym reading | Soft and comfortable |
| Specified type | Prefecture designation |
| Type | Historic site |
| Designated date | May 1, 1990 |
| Specified details | |
| quantity | |
| location | Shinami Town |
| owner | Shinami Town |
| Holding group | |
| Management organization | |
| home page | |
Overview
It is a remains of Shiba-machi Nikkamachi Jiragawahara 75-1 and others.
The tiles used to form the Morioka Castle have been excavated from the tiles used in Morioka Castle because they have been excavated with tiled tiles similar to the Gengmaru tile with the Tsuru-zuru-rin and the tiled tile found from Morioka Castle Ruins (country designated 501). Absent.
"The digging site in the last year, the place where the tiled soil is taken, the inner temple of Nagatsuji Okada of the Hizume Imperial Palace and the temple in the lower part of the temple called" ... "and" It will be related to the description that appears as "one ruble grilled clay Nikkamachi Nitta" in Hizawa Nagaoka Dori of Kanaga's first year (1848) of "Interior History".
It is a 7 m long, approximately 2.8 m wide climber built by doing basic earth work by plate construction on old topsoil.
Although the tile used in Morioka Castle was known in Shimokawara, Senboku Town, etc., it is the only Kawahara hair that has been identified as a trace, and it is a valuable monument in elucidating the history of Morioka in the industrial history It is.