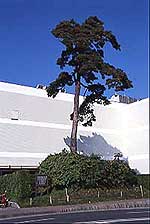 | | |
| --- | --- |
| Pseudonym reading | Ueda Ichizuka |
| Specified type | Prefecture designation |
| Type | Historic site |
| Designated date | March 27, 1992 |
| Specified details | |
| quantity | |
| location | Morioka City Midorigaoka |
| owner | Morioka |
| Holding group | |
| Management organization | |
| home page | |
Overview
Ueda Ichirizuka is located at a point 4 km north of Tamayama-ku, Morioka city, from Shijimi district in the town of Blacksmith town where the Morizuka castle was located.
There is only one western mound in existence, but it remains almost in its original form.
The eastern mound disappeared in the early Showa era.
West side mound: East-west diameter 10 m 50 cm.
North-South diameter 11 m 50 cm.
3 m 50 cm in height.