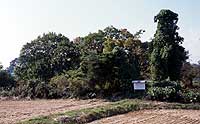 | | |
| --- | --- |
| Pseudonym reading | Kochi Chiichizuka |
| Specified type | Prefecture designation |
| Type | Historic site |
| Designated date | March 27, 1992 |
| Specified details | |
| quantity | |
| location | Hanataki City Ishitogayacho Yoshichi |
| owner | Individual |
| Holding group | |
| Management organization | |
| home page | |
Overview
This village is a village of Oshu Kaido built for many years.
What is left is the east side.
The mound on the west side is said to have remained until the Taisho era, but it is not at present.
The name of the former village, Satoruzuka, is due to the village that was built on the old highway before the Shigeoka Morioka attempted to fix the route in the third year of the calendar (1657).
A groove-like part adjacent to the west side of the existing mound and passing north to south is said to be on the former Oshu State Highway.
East side mound: East-west diameter 6 m, north-south diameter 10 m, height 1 m 40 cm.