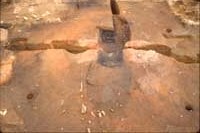 Overview
Tamagawa Tetsusan is one of the iron mountains of Hachinohe Pass known as "Ono Rokka Iron Mountain" in the late Edo period.
At that time, it is covered by the Hachinohe Nikki that this area has been a major steelmaking area since the early Edo period.
Although the age of Tamagawa Tetsusan's foundation is unknown, it is known that, in Tenpo five years (1834), the light-goods merchant Akira Serizawa Kadoemon ordered the management of this iron mountain.
Excavated surveys since 1960 detected a tall hall (fukiya) of Tatara and the remains of steel making were revealed for the first time, and it was confirmed that this was Tamagawa Iron Mountain, which was recorded historically.
The ruins are very large and the whole site is not clear, but the remains of iron furnaces of Takadono (only the base remains), the figurines, the remains of the water reservoir, etc. have been found.
It is a valuable site to know the steel development of this prefecture.
image