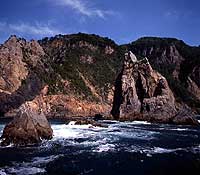 | | |
| --- | --- |
| Pseudonym reading | Funakoshika Cancer |
| Specified type | Prefecture designation |
| Type | Good looks |
| Designated date | April 5, 1954 |
| Specified details | |
| quantity | |
| location | Yamadamachi Funakoshi |
| owner | Foreign country |
| Holding group | |
| Management organization | |
| home page | |
Overview
The scenic Katsu-Funoshi Coast is an area extending almost 23 kilometers along the coast of the Funango Peninsula, including most of the southeastern coast and Benten Island and Oshima.
The Funakoshi Peninsula consists of the Paleozoic Formation and igneous rocks (granitic rock, conglomerate, etc.) intruding into it, and as a result of contact alteration due to the intrusion of granite, iron in the rock formation of the Paleozoic Formation becomes reddish-brown iron oxide Granite cliffs (about 150 m vertical cliffs) including cauldron cliffs (about 300 m high) and paleoclastic slate blocks, or deep creeks close to Odori's northern valley valley birds The landscape, including the reefs, is colorful and spectacular.
In this coast, a coastal forest consisting mainly of Japanese red pines is admirable as it exhibits the features of the northern Pacific coast.
The Funakoshi Coast is one of the most scenic part of the Land Chuka Coast National Park, and represents the northern seascape of Japan as well as the coast of Tanohata Village in the north.