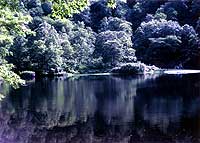 | | |
| --- | --- |
| Pseudonym reading | Shironuma Mori no Hanamochi |
| Specified type | Prefecture designation |
| Type | Natural monuments and animals |
| Designated date | July 25, 1956 |
| Specified details | |
| quantity | |
| location | Shizukuishicho Nishine |
| owner | Country |
| Holding group | |
| Management organization | |
| home page | |
Overview
There is Shiranuma in the middle of the mountain trail leading from Takinokami Onsen to Mt.
It is a swamp surrounded by beech, chishimazasa, willow etc. A moray frog is inhabited there.
The green frog climbs a tree with a sucker, but the body color at that time seems to be more green than blue.
From the middle of June to the beginning of July, eggs are laid on a branch protruding above the water surface, the egg mass is bubbled, and in this foam, the egg becomes a tadpole and falls into the water and grows.
The number of eggs laid is not as great as that of the Great Rising Swamp, but it is valuable as a rare breeding ground in the prefecture.