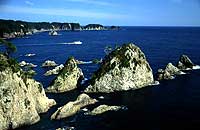 | | |
| --- | --- |
| Pseudonym reading | Sagabe sea cat |
| Specified type | Prefecture designation |
| Type | Natural monuments and animals |
| Designated date | March 17, 1959 |
| Specified details | |
| quantity | |
| location | Miyako-shi Tashiro character Mukoyama |
| owner | Outside the individual |
| Holding group | |
| Management organization | Miyako |
| home page | |
Overview
Sagabe is located on the south side of the mouth of Taro Bay and is the most prominent spot in the reef landscape.
A cliff with a height of about 100m is a rocky reef (granodiorite) with a size of about 20, and is mostly a bare reef. is there.
Sea cats nest in these reef groups and inland cliffs and raise chicks.
The sight of thousands of sea cats flying wildly from May to the end of July is wonderful.