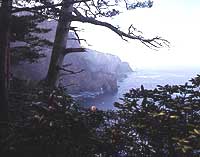 | | |
| --- | --- |
| Pseudonym reading | Tanoha is a very busy school |
| Specified type | Prefecture designation |
| Type | Natural monuments and plants |
| Designated date | |
| Specified details | April 5, 1954 |
| quantity | |
| location | Tanohata village Tanohata Kitayama National Forest |
| owner | Country |
| Holding group | |
| Management organization | |
| home page | |
Overview
White-spotted rhododendrons grow naturally on the steep slope south of Kitayamazaki.
Stunning growth is seen when it mixes with a natural forest mainly consisting of scattered red pine.
Rhododendron is a plant that grows from subalpine to alpine zones, and it has a tree height of about 2 m at such a place, but its rhododendron is also thick with about 3-4 m.
It is probably because the climate in this area is not as severe as in high mountains.
Rhododendron species are usually distributed in mountains higher than the subalpine zone in Honshu, and it is extremely rare and valuable to be found on the coast.