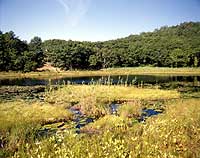 | | |
| --- | --- |
| Pseudonym reading | Yuda Yuganuma no Ukishima |
| Specified type | Prefecture designation |
| Type | Natural monuments and plants |
| Designated date | March 8, 1966 |
| Specified details | |
| quantity | |
| location | Nishiwaga-cho Yukawa |
| owner | Nishiwaga |
| Holding group | |
| Management organization | |
| home page | |
Overview
Yukawanuma is located about 550 meters above the sea level about 2 km south of the Yugawa Onsen hot spring.
The swamp has a diameter of about 150m, is moist and surrounded by beech forests.
There are prominent wetlands intermingled with sphagnum, yachisge, mikazuki kigusa, turukochemo, horomisou etc. in the north and east of the swamp, and it is presumed that the floating island was generated separately from this wetland.
About 10 large and small floating islands with a diameter of about 10m float on the water surface and are moving by the wind.
Only Yukawanuma is the only place in the prefecture where such a floating island can be seen, and furthermore, there are rare cases of forming a floating island in a high-rise wetland area, which is scientifically valuable.