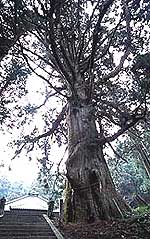 Overview
Tsumesugi of Tojoji Temple is a huge tree of cedars standing on the right side of the approach end point of the Tojoji precinct in Ryouzentakata city Koyucho.
The tree is very strong, and it is typical as a huge tree of cedar in the prefecture.
The root circumference is about 10.65 m, the diameter of the eye is about 10 m, and the branch is about 32 m east to west, 30 m north to south, and about 50 m high.
The age is estimated to be about 1,000 years or more.