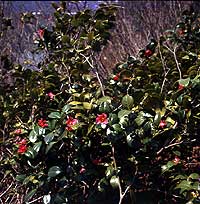 | | |
| --- | --- |
| Pseudonym reading | It's a good job! |
| Specified type | Prefecture designation |
| Type | Natural monuments and plants |
| Designated date | June 6, 1969 |
| Specified details | |
| quantity | |
| location | Oshu-shi Biwazawa-ku Wakayanagi |
| owner | Country |
| Holding group | |
| Management organization | Oshu |
| home page | |
Overview
Yukitsubaki was discovered in Saruiwa in Ozawa-shi, Giyosawa-ku, and was originally announced in the name of Saruiwa Yukitsubaki.
After that, it was found to be distributed in beech forests around the Sea of Japan, and it was changed to Yukitsubaki.
Saruiwa is a large rock peak of quartz andesite tuff that rises on the right bank of Ishizawa Dam, upstream of the Gurusawa River, and there is a Saruiwa Shrine at the top, and it is about 500m above sea level around the grounds of this area. It was considered near.
Yukitsubaki is a variant of Yabutsubaki found in the coastal area of this prefecture, and its height is lower than that of Yabutsubaki, and its trunk is obliquely elevated from the ground, and its height is about 1 to 2 m.
In recent years, an area with a dense beech forest covered with dense beech forests has been discovered on the left bank of Girusawa River, of which 22ha in Oarasawa area is additionally designated, and the name is Saruiwa Yukitsukaki Community to Kirisawa River Basin It has been changed to Yukitsubaki community.