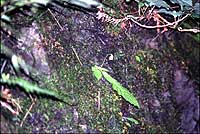 | | |
| --- | --- |
| Pseudonym reading | た ば こ た ば こ い ち い ち い ち |
| Specified type | Prefecture designation |
| Type | Natural monuments and plants |
| Designated date | June 6, 1969 |
| Specified details | |
| quantity | |
| location | Tanohata village Daiji Minami Daisuke |
| owner | Tanobata village |
| Holding group | |
| Management organization | |
| home page | |
Overview
Squirrel tobacco is a perennial plant belonging to the family Ibernida, which is abundant in wet rocky areas.
This plant produces a large leaf and releases one or two stems in summer to open a pale purple pretty flower.
Originally, it is a warm land, widely distributed in the temperate zone, but somewhat found in northern temperate prefectures is valuable as an example of sequestration distribution and also as a northern limit swarm on the Pacific coast.
The Iwata tobacco native population is mixed with Uchiwagoke, Dimonjisou, Tsurunekonomesou, Mizuna, etc. on rocks rich in water and moisture on the right bank of Tanohata village Kazukizawa valley.
In the prefecture, it is distributed a little outside Arakawa of Yamada-cho Toyomane, near Shidohira Onsen, Miyako city.