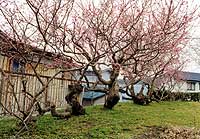 | | |
| --- | --- |
| Pseudonym reading | New Year's Eve |
| Specified type | Prefecture designation |
| Type | Natural monuments and plants |
| Designated date | October 27, 1972 |
| Specified details | |
| quantity | |
| location | Yamada-cho Osawa |
| owner | Individual |
| Holding group | |
| Management organization | |
| home page | |
Overview
Persimmon plum is named in the sense that it is a form of plum that a dragon crawls to the side.
This plum is originally a double-flowered red plum blossom, but with stems and thick branches lying sideways on the ground, it has the unusual habit of being the first root and becoming a cotyledon, as well as making a grandson from a coupe It is a plum.
Similarly, Oryu's Ryukyu plum is also a parent-child and a grand-child strain, but now, from west to east, parents, grandchildren, and Miki's Miki line up in a row, and between them the dragon-like form There are no branches already.
The root stock of the parent strain is about 3.1 m, the branch branch is about 2.7 m, the north-south 7 m, and the root stock of the offspring and grandchildren are about 1.2 m and 1 m, respectively.
There is no exception in the prefecture and of course in the Tohoku region, and it seems to be the northern limit as planted in Japan.