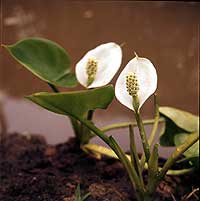 | | |
| --- | --- |
| Pseudonym reading | Wakayanagi's Himeka Yuganaku |
| Specified type | Prefecture designation |
| Type | Natural monuments and plants |
| Designated date | April 4, 1978 |
| Specified details | |
| quantity | |
| location | Ozawa-shi, Izawa-ku, Wakayanagi-shaped Yokodake Maeyama National Forest |
| owner | Country |
| Holding group | |
| Management organization | Oshu |
| home page | |
Overview
Wakayanagi's Himekayu is inhabited by a small swamp called Hirananuma in the beech forest on the hillside of Mt. Yakeishi.
Himeka Yu grows in the periphery of ponds and marshes, and part of the rhizomes are in the soil on the shore, but most of the rhizomes are in the water, from which fine roots and leaves come out.
Because of this, the leaves and flowers float on the surface of the water and flourish.
This aquatic plant is distributed on the land around the Arctic, and is abundant in Hokkaido in Japan, and grows only in a very limited area such as Ogoyama in Aomori, Hakuhosan in Yamagata, Shiga Kogen in Nagano, etc. in Honshu.