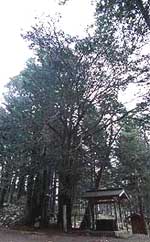 | | |
| --- | --- |
| Pseudonym reading | Hachichi Screwdriver |
| Specified type | Prefecture designation |
| Type | Natural monuments and plants |
| Designated date | May 9, 1986 |
| Specified details | |
| quantity | |
| location | Tono City Tsukuha Ushicho-Kan |
| owner | Hayaikemine Shrine |
| Holding group | |
| Management organization | |
| home page | |
Overview
The yew is a dioecious evergreen coniferous tall tree that grows in central and northern Hokkaido and Honshu, Yamato, Shikoku, Kyushu and mountainous and subalpine areas.
It is scattered all over Iwate Prefecture, but it is extremely rare, and it grows a bit rare on the hillsides of Mt. Hayaike and Yakushidake.
There is a female strain on the right hand and a male strain on the left hand through the middle gate of the shrine.
The female strain is 4.98 m around the root and 16.2 m in height.
The trees are very good, with small red berries every year.
The male strain has a root circumference of 3.90 m and a tree height of 17.0 m.
Some are dead on the lower branches, but the trees are very good.